Pure Brilliant Podcast Show #21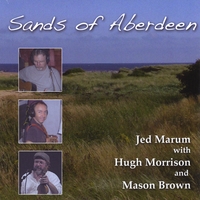 Welcome to the Pure Brilliant Podcast show #21.
Back again with another Pure Brilliant session! This show features the lastest recording project I worked on with my great friend and musicial partner
Jed Marum
.
Our new project also features
Mason Brown
and many other fine musicians, collectively we are know as
Lonestar Stout
. The album is produced by Toronto native, Paul Mills.
Sands of Aberdeen
is the title of this new CD and is already receiving rave reviews since it's release in October. Included in the show is my good friend
Beth Patterson
with the title track from her "Take Some Fire" album.
Hollow Horse
give us "Run", from their brilliant "Escaping from a Submarine" album.
Your host,
Shuggie Morrison
CLICK HERE FOR SHOW #21!!
SHOW NOTES:
INTRO: 0:00
Lonestar Stout (Jed Marum, Hugh Morrison & Mason Brown)
with Sands of Aberdeen.
Lonestar Stout
with Lovely Leah Tune Set.
Beth Patterson
with Take Some Fire.
Hollow Horse
with Run.
Lonestar Stout
with Lilly of the West.
Lonestar Stout
with Star of the County Down.
Send emails to
Pure Brilliant Podcast
Thanks for listening…
Hugh Morrison
with Allan & Leila MacIsaac & John Alexander Pirie.
END 30:57
This work is licensed under a
Creative Commons Attribution-NonCommercial-NoDerivs 2.5 License
.>